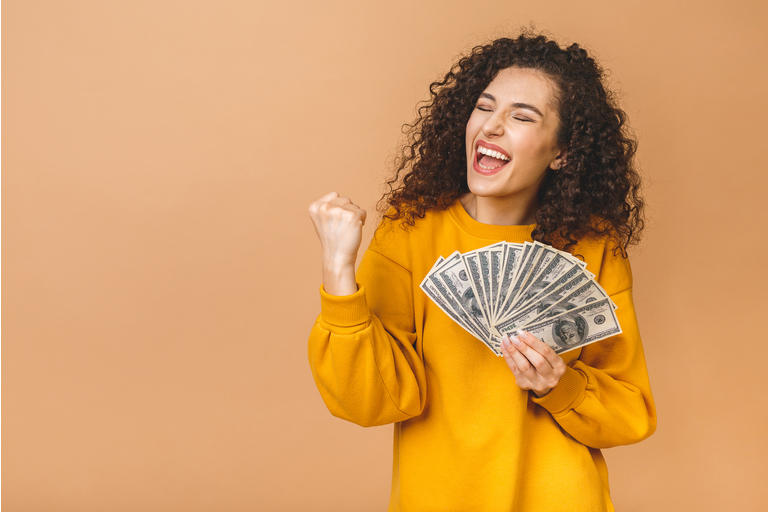 Old Republic Stock Is An Old Reliable Value Buy (NYSE:ORI)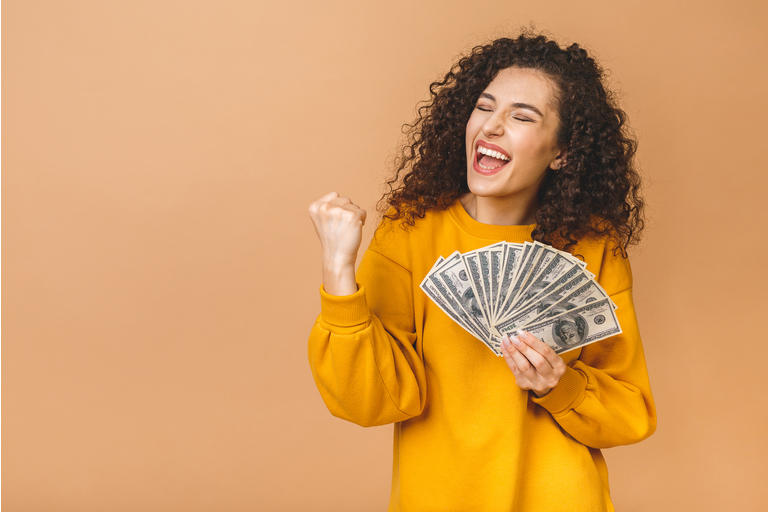 The recent rout in tech valuations has caused many investors to second guess speculative strategies. Nothing goes up forever, and that's perhaps best reflected by the fact that Cathie Wood's ARK Innovation ETF (ARKK) is down by 48% since its all-time high reached in February of last year.
In this past week alone, the NASDAQ 100 (QQQ) plunged by 4.5%, far outpacing the 1.9% decline of the S&P 500 (SPY). As the market shifts away from risky segments, it pays to own durable value stocks that pay a healthy and growing yield.
This brings me to Old Republic (ORI), which is a reliable income generator that has served its shareholder well. In this article, I highlight what makes ORI a solid value stock worth buying today, so let's get started.
ORI Is An Old Reliable Value Buy, Here's Why
Old Republic is a Chicago-based Fortune 500 company and is engaged in the insurance underwriting business. Its primary segments include general and title insurance. ORI's general insurance ranks among the 50 largest in the U.S., and the title insurance operations are the third largest in the country.
Notably, ORI has paid an uninterrupted dividend for 80 years, and raised its dividend for 40 consecutive years. This puts ORI well on track to be the only title insurance company to achieve Dividend King status in 10 years' time.
ORI is performing well in the current environment as robust demand for housing and refinancing of mortgages has been a boon for business. This is reflected by consolidated net premiums and fees increasing by 18.6% YoY during the third quarter and by 21.7% YoY for the first nine months of 2021.
This was driven by respectable mid-single digit premium growth in the general insurance business, and robust growth in the title insurance segment as demand for housing nears record levels. I'm also encouraged solid underwriting, as ORI produced an 89.8% combined ratio (the lower the better) during the last reported quarter, comparing favorably to the 92.3% during the same period in 2020.
ORI also benefits from its significant scale, which drives operating leverage for the company. As shown below, ORI earns a B+ profitability rating, driven by a high gross profit margin of 73%, sitting well ahead of the 63% sector median, and by its industry leading 23% return on common equity, which is nearly double the 12.8% sector median.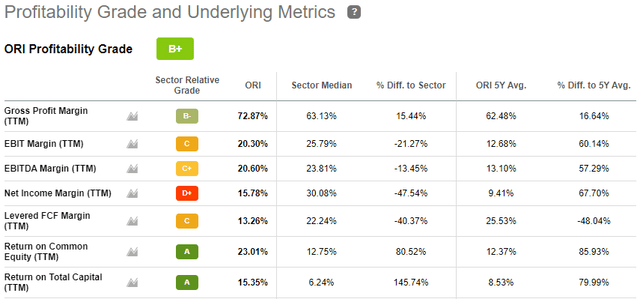 (Source: Seeking Alpha)
Looking forward, I see potential for ORI to extend its gross margin advantage through the use of technology in the title closing process. There appears to be plenty of room for margin expansion on this front, as digital closings still represent a small fraction of the total industry, as noted by management during the recent conference call:
In our technology portfolio, Pavaso remains the market leader in the number of digital closings completed. We have seen an increase in digital closings, although at this time, less than 5% of all closings in the industry are done digitally. We are constantly investing in the platform, planning for the future expansion and greater adoption of digital closings across the industry.

Another part of our digital road map recognizes and addresses the need to optimally service our agents with an interconnected ecosystem of external partners and technologies that interact and exchange information throughout the entire business workflow. The number of choices, partners and technologies has rapidly grown and will accelerate in the future.
Meanwhile, ORI maintains a strong BBB+ rated balance sheet with a reasonably low debt to capital ratio of 20%. It also pays a healthy 3.5% dividend yield that's covered by a low 30% payout ratio. As such, I would expect for ORI to maintain its dividend aristocrat status.
Risks to ORI include fluctuations in the valuation of its securities portfolio (since ORI invests premiums in securities like any other insurance company). This risk is mitigated by the fact that 71% of the securities portfolio is invested in highly rated bonds, with the remaining 29% allocated to large-cap dividend paying stocks.
Other risks include higher than expected insurance claims, and the fact the title insurance business is sensitive to the housing market and interest rates. As such, a slowdown in housing demand in combination with higher interest rates could impact ORI's title volumes.
I see value in ORI considering all the above at the current price of $25.49, with a forward PE of 8.8x, sitting well below its normal PE of 12.3x over the past decade. Sell side analysts have a consensus Buy rating with an average price target of $30, implying a potential one-year 21% total return including dividends.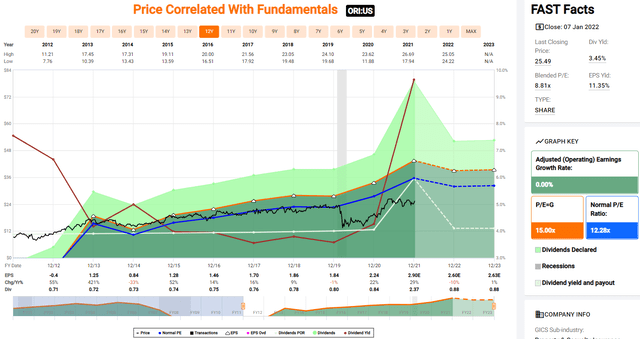 (Source: FAST Graphs)
Investor Takeaway
Old Republic has produced reliable income for its investors for decades. Its business has greatly benefitted from low interest rates and the current robust demand for housing. Looking forward, I see plenty of opportunities for margin expansion as management moves towards further digitizing its title closing process. Meanwhile, I see value in ORI based on the current valuation, the quality of the business, and the reliable income.