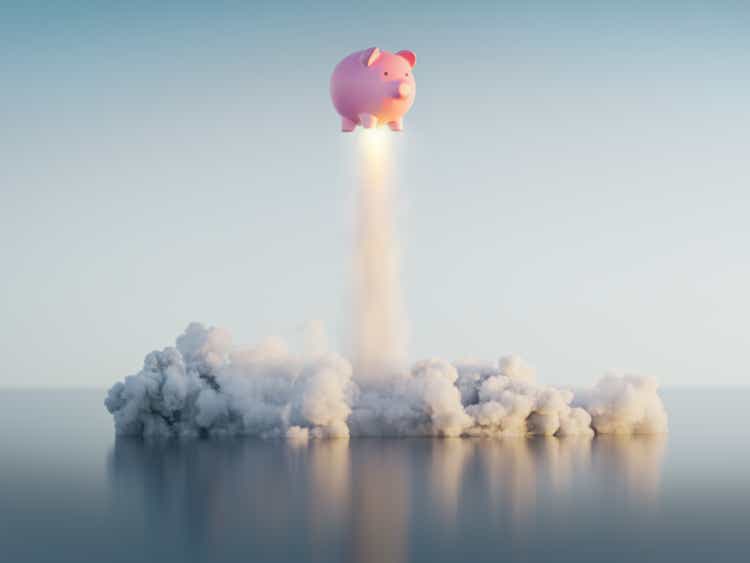 Manulife & Verizon: 2 Companies With 20%+ Upside & 4%+ Yield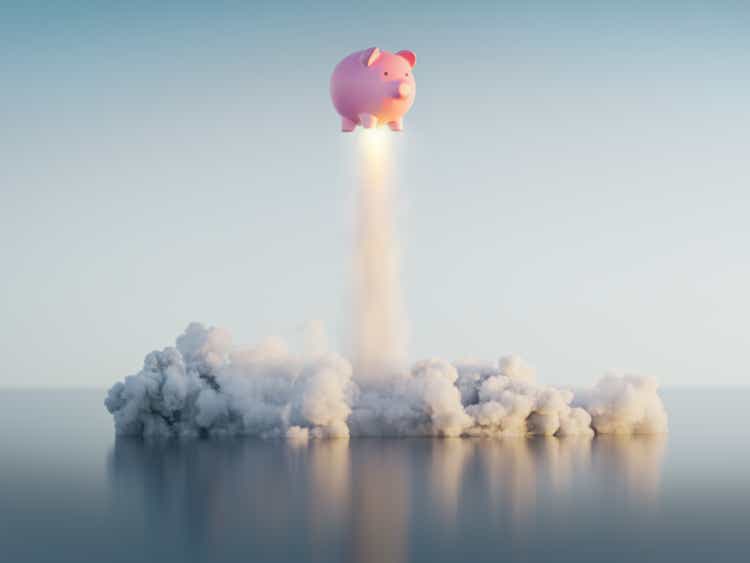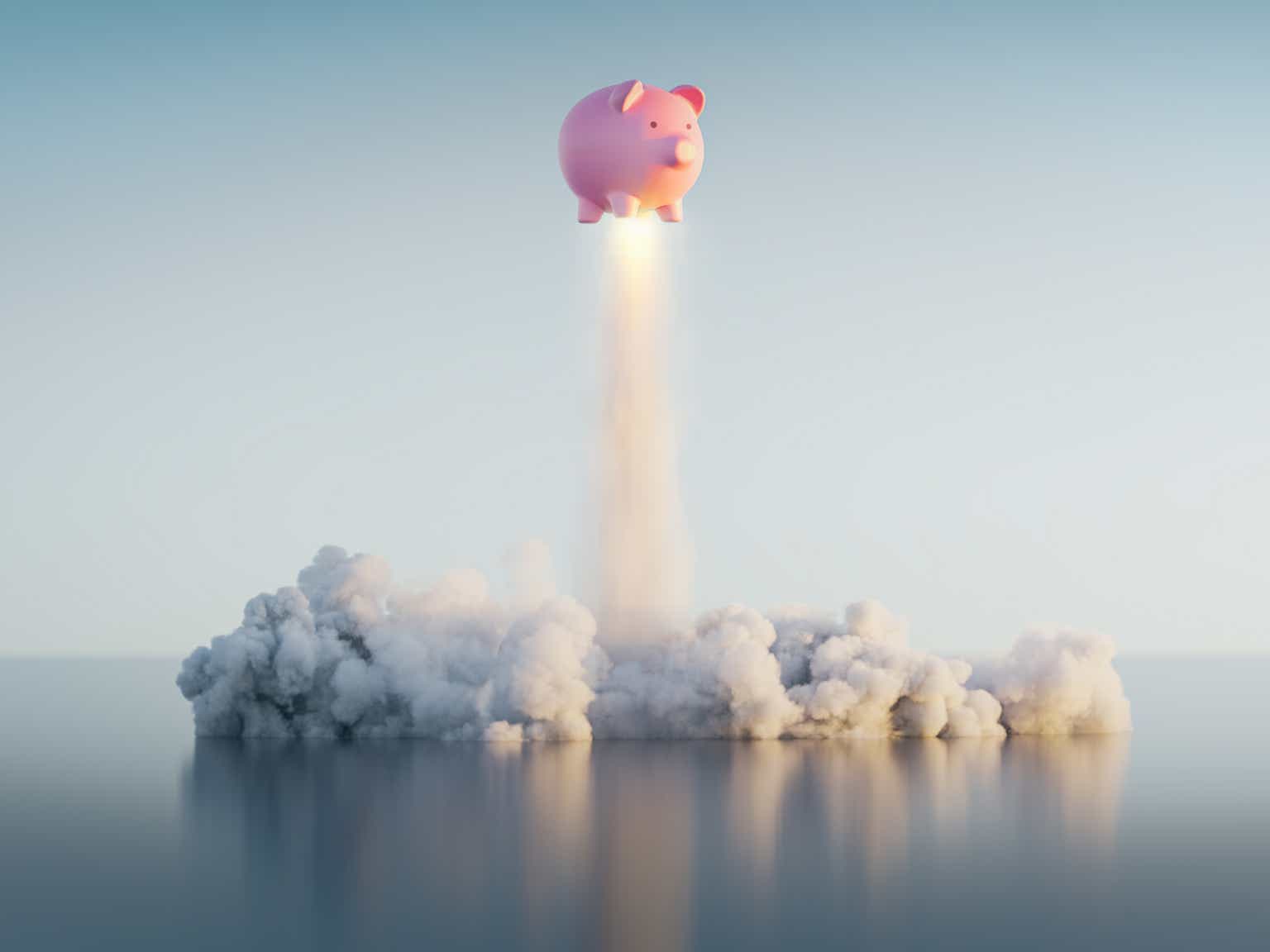 Dear Readers,
I love safe, conservative yet high yields. By that, I mean companies with:
BBB+ credit rating or above.
No more than 50% EPS payout ratio in their dividends.
Historical earnings stability and at least 10+ years of constantly increasing dividends.
Dividend yields of no less than 4.5%.
My portfolio has several of these companies – and the ones I'm going to present to you are more than 2% of my portfolio each, meaning tens of thousands of dollars in holdings with thousands of dollars in dividends per year.
I vastly prefer this over risky growth-type stocks investment which may come at higher potential capital appreciation, but also come at very different risk/reward ratios.
Part of my job/my tasks is managing conservative portfolios as examples, aimed at retirees or people who are looking to get safe type income from their capital. So in my investing, I'm usually laser-focused on that combination.
Safety and income.
If this is coupled with a low valuation, investor's awareness of upsides and downsides, and then combined with selling overvalued and buying undervalued equities with this logic, the results can be very powerful. Powerful enough to offer market-beating, long-term outperformance, while at the same time not necessitating excessive risk-taking for the investor.
So even if you never sell, you'll still make decent yields and good returns – and if you progress with some valuation thinking, it could be even better.
That is the basis of the companies I will show you today.
One of them I've written about extensively. The other is actually new for my writing, as I haven't written a base article on the company.
Let's get into both.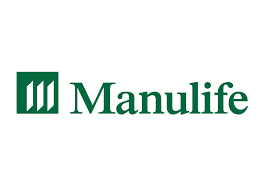 1. Manulife Corporation (MFC)
I own plenty of finance, and I invest heavily in banking, insurance, and asset management. Some of you might except Unum (UNM) here – I'm long UNM and have a significant stake in the company in terms of my portfolio.
But Manulife is "better".
What I mean by "better" is:
Its credit rating is A.
It has a less than 40% NTM EPS payout ratio.
Its upside is nearly 30% on a conservative 10-11X forward P/E.
It has managed the post-financial crisis years very well.
The forecast calls for annual earnings growth of 12% on average.
Manulife is the largest insurance company in all of Canada. It's also one of the largest fund managers in the world based solely on AUM, and there Manulife Bank of Canada is a wholly-owned subsidiary of Manulife.
Manulife has been a market leader over the past 5 years in terms of overall shareholder returns, with appealing increases in dividends, yet still not breaching the 40% mark on an EPS payout basis.

One of the primary appeals for the company from a high level is its positioning for the future. It's excellent and includes trends such as:
The growing emerging market middle class, where Manulife is well-positioned to grow as the need/desire for insurance increases.
An aging, global population, necessitates the need for more healthcare/insurance along with a heightened perception of the importance of insurance.
The company operates in 13 overseas, Asian markets, with 115,000 company agents with access to 30 million customers. The company has scale long its three global businesses, and it has good adoption for digital thus far.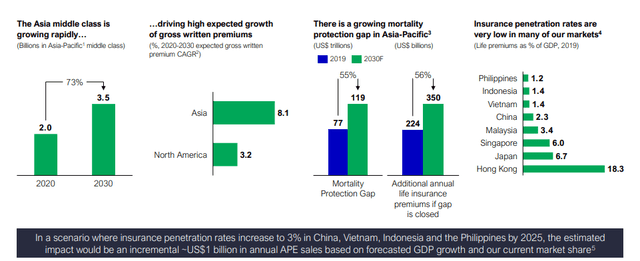 With its legacy operations working fine, there are plenty of opportunities for the company to expand operations in Asia. This isn't even mentioning the business opportunity that MFC is also in – namely asset management and banking.
MFC has good business segmentation, with earnings appealingly spread between Asia (33%), US (31%), Canada (19%), and Global WAM (17%), with most of the new business value (77%) coming from Asia. MFC is therefore not dependent on growth in its home markets, but has been, and is targeting further growth from other regions. The company is also the third-leading insurer in terms of new business sales in all of the pan-Asian geographies.
In addition, COVID-19 wasn't really as much of a worry for it as for other companies. While it did drop, it didn't drop that far, and at the same time increased its market share in Hong Kong, China, Vietnam, Cambodia, Japan, and Indonesia.
The official 2022-2025 targets include a heavier focus on digital and tech, investing in Asia, accelerating growth through its agency force, and exclusive bancassurance (basically a sort of agreement between a bank and an insurer, which allows the insurer exclusive rights to sell to the bank customer base), optimization of legacy.
Focus metrics are expense efficiency goals, employee engagement, and better portfolio contribution from higher-margin segments, all of which are expected to drive growth.
On a high level, MFC is exactly the sort of major insurance company you want to invest in. With a solid legacy core and a promising growth market and rock-solid fundamentals, I established a large position in the company when it dropped, and one I've been expanding on in the last few months.
Just how cheap is MFC here?
Plenty.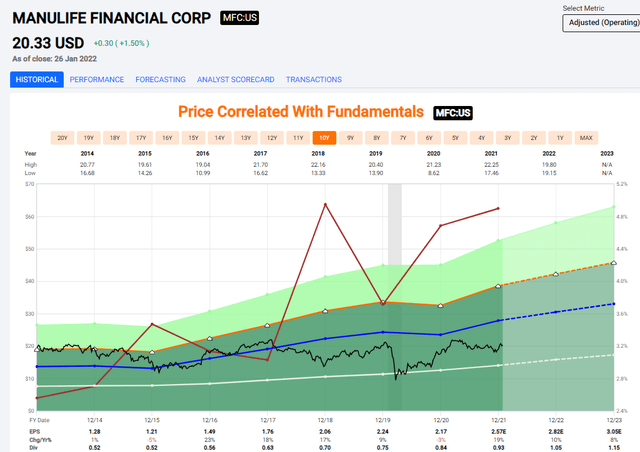 What you do is buy insurance businesses and financials below 10X P/E. This one is currently trading at a 7.85X P/E, with a 10-year average of 10.83X, or an inverse EPS yield of over 12.5%. The market is severely discounting this business's cash flows.
Why? What is the risk here?
Well, every insurance does come with a certain amount of risk. As I mentioned in my Unum articles, this company also suffers from some COVID-19 risks. Still, MFC is good enough that they recently, in November, announced supplemental dividends for its shareholders.
Most recent results saw some pandemic results variance, which led to some guidance misses, but still seeing a 10% increase in core earnings year-over-year, with new business increases of 22%. The pandemic was indeed a "blip" for this company's long-term trend, yet the stock price took a nosedive and some very rocky trends for the following 2 years.
This marked, and still marks to be what I believe to be an opportunity. Even if we only consider a 7-8X P/E on a forward basis, it still marks an almost 16% annualized RoR until 2023. If we consider a normalized 10-11X P/E, more accurate for the 10-year forward period, we see returns of almost 30% annualized here.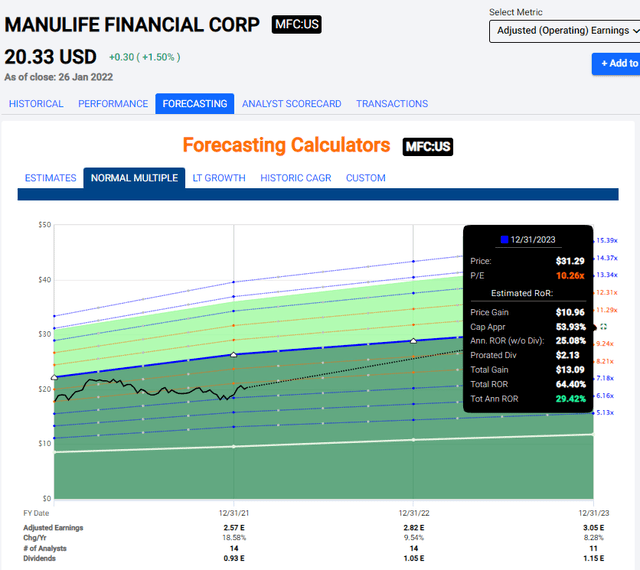 I don't want to give the impression that there are no risks here, just that I view the risks as controllable. The current significant risk is the COVID-19 impact – especially with the company's Asia exposure. There are also continued challenges endemic to certain of the company's markets, such as the Philippines. In essence, Asian markets aren't exactly the easiest to navigate, and investors should provision for, or discount for larger amounts of volatility inherent in companies with earnings from such markets.
With the company's sales mix though, this is a smaller point to me – and an appealing risk-reward ratio overall. Because even if we're looking at essentially flat development, I'll still look at market-similar development for this investment, which is the minimum that I'm usually looking for.
I want the downside case of my investments to result in market-equal or market-upside sort of potentials.
That's exactly what we have here.
I see a conservative upside of 10-30% per year, including a 4.35% yield.
I'm a "BUY" with Manulife, and I'm buying more.

2. Verizon Communications (VZ)
Verizon, on the other hand, is a far easier sort of thesis than Manulife. It comes without much of the inherent non-legacy growth risk – because it doesn't have much growth potential, and it's 100% what I would consider "legacy".
Is that a bad thing?
No, it's just something that needs to be considered. It means that you don't want to buy Verizon at what I would see at "full" or "high valuation" – but that's not where Verizon is currently being valued.

Instead, we're looking where we can buy Verizon at a 5%+ yield. My own YoC is above 5.2% at this point. We're being paid a 5%+ dividend yield, with an EPS payout ratio of no more than 47.9% on NTM with a close to 100% analyst accuracy with a 10% margin of error (Source: S&P Global).
Verizon Communications will not make you rich. Let's make that clear from the get-go. If you want 200% capital appreciation in 2-4 years, look elsewhere.
What Verizon will do is take your capital, put it in fundamental telecommunications that are ubiquitous as electricity, food, and water in today's society, and pay you a 5%+ yield on that invested capital.
Not only that, you're investing at a P/E ratio of 9.48X, which is less than most internationally safe telco's here. It's an inverse Earnings yield of 10.55%.
Let me put it another way.
At any time in the last 20 years, if you'd have invested in Verizon at just close to this valuation, you would have made off with nearly 10% annualized RoR, or 241% since late 2008, for investing in a Telco.
Considering the width and expanse of this company's infrastructure, Verizon is being severely undervalued due to 5G issues, some CapEx headwinds, growth questions and other factors. My answers to these are quite simple. 56G will take more time, growth will be slow (less than 5% annually), and CapEx will continue to be a significant part of revenues, as it is for any telco.
Yet that does not change what Verizon offers here. The annualized upside even just on a flat 10X P/E is market-beating at just above 10% here, and with a 12.6X 5-year average P/E, you're making away like a bandit with 22% annualized, or 46.7% in 2 years.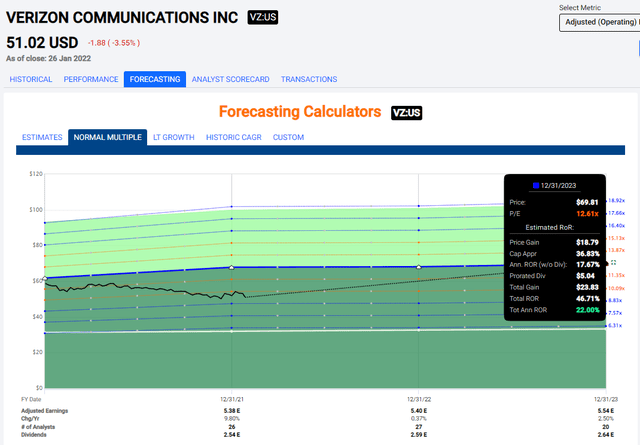 I'm a simple investor – a simple man. I want market-beating, cheap, above-average quality investments with above-treasury yields. The more they can grow that dividend, the happier I am.
However, in a situation like this, I believe the conservative investor should be happy at investing $10,000 and receiving $500 p.a. ad infinitum (theoretically) for their trouble. It's not a bad deal when you compound potential RoR at this valuation over time.
I'm not a fan of overcomplicating things, so let me put this very clearly.
This is one of the best opportunities I see on the market today. It's not the best. But it's one of the best, and easily one of the safest out there.
Remember what you're investing in.
You're investing in people continuing to use their cell phones/devices, their internet, and for the company to basically continue a CapEx spending and expansion plan. Is there downward potential?
Always.
Is there upward potential? Significant.

What's more, I really don't think you need to be all that worried about this company going into any sort of trouble long-term. It has utility-like safety. It's BBB+ rated.
It's the largest wireless carrier in all of the United states. It has 120.9 million subscribers. It's after AT&T (T) in terms of revenue, but the spin-off/split-off when T does HBO/Time Warner could change that. Its products include Cable, Landline, Mobile, Broadband, Digital TV, IPTV, Internet, Digital Media and Telematics.
It is, simply put, an integral part of the digital infrastructure of the USA.
And it's offering you a 5% yield with a 20%+ realistic conservative upside to invest in its common stock.
Concluding
In this article, I've done my best to pick two companies that:
Pay generous, well-covered dividends
Have above average safety
Have realistic, 20%+ upsides
Have positive, forward 2-4-year growth estimated
Both of these companies fulfil these goals. Both of these companies are integral parts of my core portfolio at over 2% portfolio stake each. I have tens of thousands of skin in the game here – and I'm buying more in both companies.
What's more, dear readers, I consider these to be safe stocks. They're the type of stocks that your grandparents could buy, and get that quarterly paycheck without, as I see it, having to worry one bit about the company.
The companies are safe enough from most fundamental shenanigans. This isn't a tech growth business. It's not risky finance, or funding. These are two of the most conservative and safe operations that are around, and that show undervaluation.
That's key to me.
As an example, MFC currently trades at $20.43 for the US ticker. It's average S&P Global price target is $26.6/share. That's a 31% upside (Source: S&P Global).
Verizon currently trades at an average S&P Global price target of a 25-analyst average of $59.92. This indicates an upside of no less than 17.5% based on current forecasts and targets.
Both companies are expected to raise their dividends year-over year – MFC faster than Verizon. Both companies are forecasted to show earnings growth – again, Manulife faster than Verizon.
Together, these companies represent a combined average ~4.7% yield at incredible levels of safety. You don't need to be all complicated and fancy with your investments. When the market is discounting companies like this, you can just buy and smile, basically.
That's what I'm about in a market like this.
Questions?
Let me know.