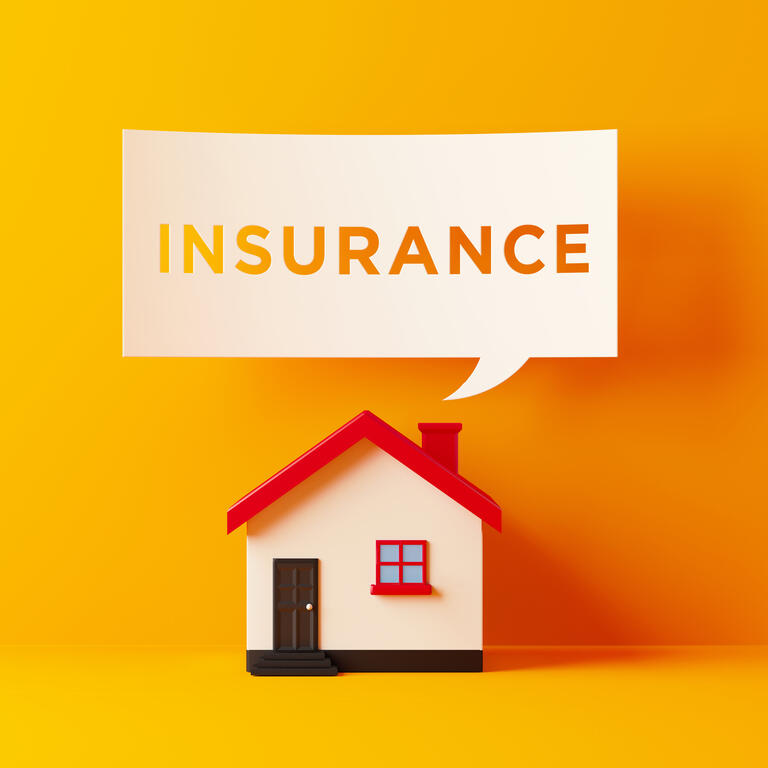 Lemonade Stock: This Is The Buy Point We've Been Waiting For (NYSE:LMND)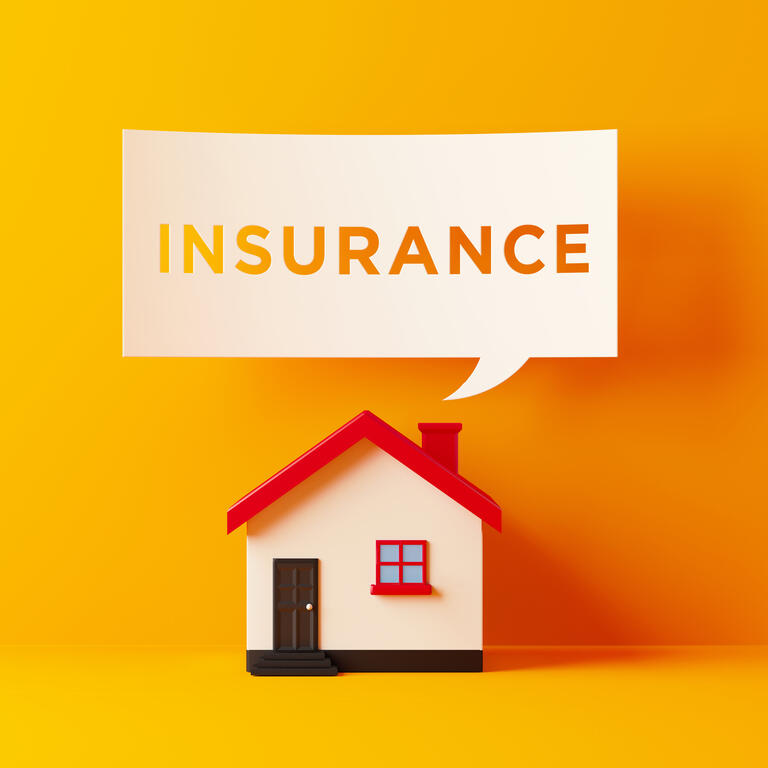 Over the past year, the boom and bust cycle in many growth stocks has been jarring to watch. Stocks have flown up and doubled or even tripled on the slightest whiff of positive news, driven entirely by momentum and meme trades – and then starting in November of last year, as sentiment weakened and the market adopted more of a risk-off stance, these fast-gotten gains faded just as quickly.
Lemonade (LMND) is no different. The tech-enabled insurance firm, once a very hot IPO, has been in trouble over the last year. The last 12 months have seen this stock drop on a nearly daily basis, and its TTM return is -75%. Yet from a customer perspective, the business is still vibrant and adding on new insurance contracts with each passing quarter. Logic tells us that at some point the bleeding will stop once Lemonade has adjusted comfortably into its new reality.
So far in 2021, the stock is down another 12%. In my view, it's a good time for investors to take a breath and re-assess the Lemonade situation with objective eyes.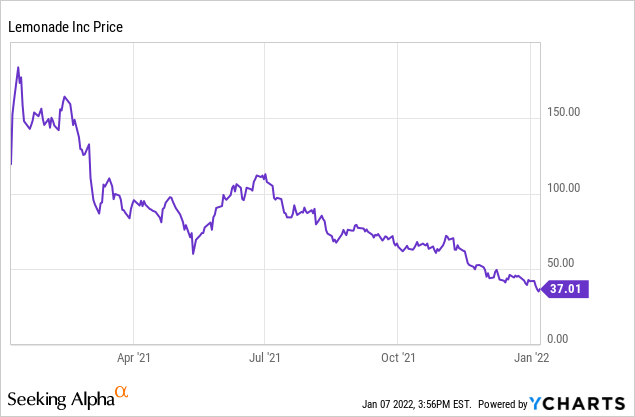 I had been bearish on Lemonade since its IPO, but in December noted that Lemonade presents an attractive buying opportunity if the stock sinks into the mid-$30s. Now having plunged to those levels, I'm upgrading my view on Lemonade to bullish, and believe investors have a great opportunity here to buy on the dip.
Let's now assess the reasons why.
Valuation looking much more reasonable, especially with all that cash on Lemonade's books
First off – with Lemonade having fallen so sharply over the past year, the stock's valuation has moved to what we can consider to be reasonable levels. At current share prices near $37, Lemonade has a market cap of $2.29 billion. After we net off the $1.12 billion of cash on the company's most recent balance sheet, the company's resulting enterprise value is only $1.17 billion.
This is a very important point to note. Basically half of Lemonade's current trading value is made up of cash. To me, this is just one more indication that investors have too little faith in the core business, or that the selloff has plunged to unreasonably chaotic levels.
For the current fiscal year FY22, meanwhile, Wall Street analysts are expecting Lemonade to generate $215.3 million in revenue (+70% y/y; data from Yahoo Finance), which includes a half-year contribution from Metromile – a deal that's expected to close in Q2. Versus this revenue estimate, Lemonade stock is trading at only 5.4x EV/FY22 revenue. That, to me, is a very low valuation multiple for a company that is still relatively in its infancy and currently organically growing in-force premium north of >80% y/y and revenue north of >100% y/y.
Insurance is all about scale, which Metromile provides
There are some businesses that don't function as small operations, and insurance is one of them. It's simple: Smaller insurance companies are far more prone to large one-off risks and incidents, while a larger insurance company can more easily absorb these shocks. A lot of investors' apprehension for Lemonade is driven by its small scale and currently-heavy loss ratios. Lemonade balances that by having large reinsurance agreements, but over time scaling the business, diversifying premium streams, and growing the member base is the best way to scale sustainably and profitably.
First, I think Lemonade is getting quite a good deal For Metromile. The company is acquiring Metromile in an all-stock transaction, at a 19:1 ratio. The implied ~$200 million value was only about 2x the company's trailing in force premium.
Figure 1. Metromile transaction basics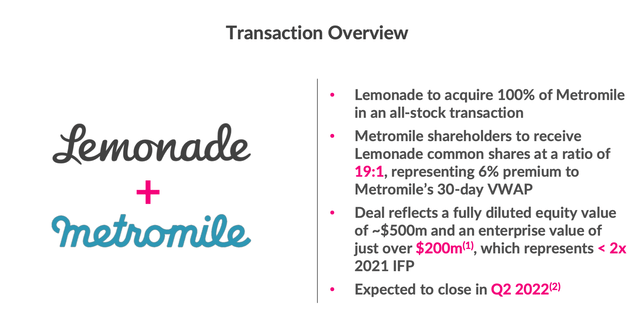 Source: Lemonade November investor presentation
That addition in in-force premium adds significant heft to the combined company. As of Lemonade's most recent quarter (Q3), the company had an organic IFP base of $346.7 million. The $100 million addition of Metromile expands Lemonade by ~30% immediately, not counting future growth beyond 2021.
Figure 2. Metromile synergies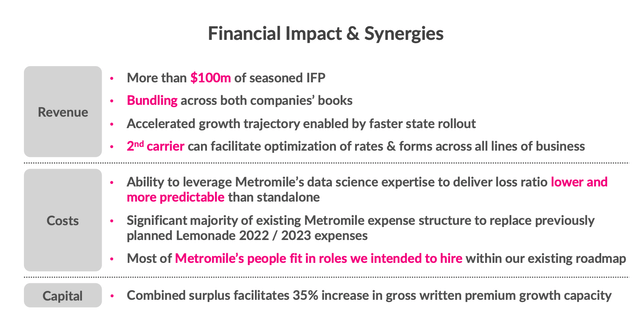 Source: Lemonade November investor presentation
And while there might be an exaggeration in this statement, Lemonade does state that the majority of the headcount it's taking on from Metromile are corporate hires that Lemonade would have made organically within 2022-2023. So while there aren't any immediately quantifiable financial synergies, it will hopefully mean rationalized headcount growth for Lemonade going forward.
Organic growth is impressive
Even without Metromile's contribution, Lemonade had been growing its IFP and revenue base quite substantially on its own.
In Q3, the company added roughly $50 million of net-new IFP, the largest sequential add in Lemonade's history. Total IFP of $346.7 million grew 84% y/y, while revenue of $35.7 million grew more than 2x y/y. At the same time, both dollar-based retention and average premium per customer hit all-time highs of $254 and 82%, respectively.
Figure 3. Lemonade key metrics

Source: Lemonade Q3 shareholder letter
There are secular drivers at play here:
The trend is shifting toward online insurance purchases. Gone are the days where we purchase insurance through agents at legacy companies. Companies like Lemonade that have invested heavily in its digital presence will have an upper hand in taking market share.
Expanding into new insurance categories. Pet insurance is the most recent example of a new category Lemonade has added organically.
Home ownership is increasing. One of the key reasons that Lemonade is driving premium growth is that many of its policyholders are "graduating" from renters into homeowners. This trend has been well documented for millennials throughout the pandemic, and Lemonade, with its historical strength in having a large base of renter policies, has a massive chance to "upsell" these customers into homeowners policies.
And speaking of upsell, cross-sell has now become a possibility with Metromile. Lemonade and Metromile is a great marriage of two highly popular consumer insurance brands, and the company now has a great opportunity to leverage Metromile's car insurance base to sell other policies into.
Key takeaways
Lemonade has seemed like a falling knife over the past year, but it's my view that the worst is behind us. To me, this is a cash-rich business that's expanding nicely into a wide variety of insurance categories, least of all with its planned acquisition of Metromile that will significantly expand the company's scale. Trading at only ~5x 2022 revenue, Lemonade is worth a bet.