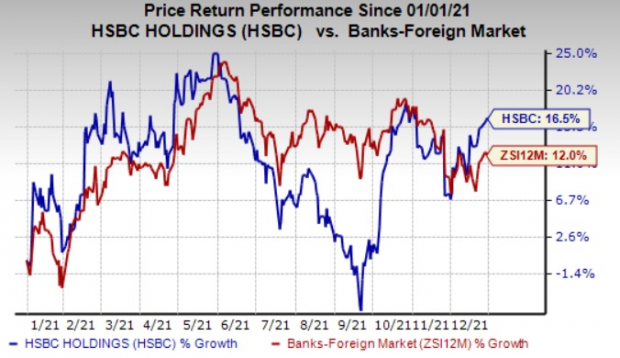 HSBC Gets Nod to Buy Remaining Stake in China Life Insurance JV
HSBC Holdings plc HSBC receives regulatory approval from the China Banking and Insurance Regulatory Commission to acquire the remaining 50% stake in its China life insurance joint venture (JV) — HSBC Life Insurance Company Limited. Notably, HSBC Life China was formed in 2009 as a 50:50 JV between HSBC and National Trust Limited.
Headquartered in Shanghai, the JV offers insurance solutions covering annuity, whole life, critical illness and unit-linked insurance products.
HSBC Asia-Pacific's co-CEO, David Liao, stated, "Growing our insurance business is key to delivering on our strategic priority of being a leading wealth manager in Asia. Full ownership of HSBC Life China brings us closer to this goal, and shows our commitment to expanding our broader wealth offering in mainland China."
Greg Hingston, the CEO designate of HSBC Global Insurance and Partnerships, added, "With full ownership, we will have greater flexibility in accelerating our growth plans. In tandem with HSBC Pinnacle, our digital and mobile wealth planning and insurance platform, we will be able to significantly expand our capabilities to serve the growing wealth and insurance needs of our customers in China, particularly in the Greater Bay Area."
Notably, the deal to buy the remaining 50% stake in HSBC Life China was entered by HSBC in May 2020. It was decided back then that the deal would be structured as a transfer of equity interest.
HSBC's Asia Growth Plans
HSBC, which holds a dominant position in the Asia markets, has been aiming to become the region's top wealth manager by 2025.
This February, the bank announced that it is on an expansion spree and it plans to hire 5,000 wealth planners in Asia over the next five years. Along with this, it announced plans of injecting $3.5 billion worth of capital in the region, of which approximately two-thirds will be used to bolster the bank's distribution competencies via new hires and technology improvements.
Further, HSBC has stated plans of shifting capital from the underperforming businesses in Europe and the United States to invest $6 billion in Asia over five years. The capital will mostly cater to amplify its wealth management business since management intends to target wealthy clients in mainland China, Hong Kong, Singapore and other parts of the region.
Notably, in addition to taking full ownership of HSBC Life China, HSBC continues to invest in its China insurance business amid plans of expanding footprint in the region. In 2020, HSBC initiated a digital-first, hybrid financial management platform — HSBC Pinnacle — in China. It hired 200 wealth managers in Shanghai, Hangzhou and Shenzen last year. Currently, nearly 700 personal wealth planners are onboard. The bank expects to recruit 3,000 wealth planners by 2025-end.
Conclusion
HSBC's expansion plans in Asia are expected to help offset some of the adverse impacts that the low interest rate environment has been putting on its top line. Nevertheless, competition for fee-generating sustainable businesses in Asia might intensify over the medium term.
Also, while the company's initiatives to improve market share in China will likely support its financials over the long term, it might lead to an increase in expenses. Elevated expenses might hurt the company's bottom line to an extent.
Nevertheless, HSBC's continued efforts to strengthen digital capabilities globally and improve operating efficiency through further restructuring efforts will go a long way in supporting profitability.
Over the past year, shares of HSBC have gained 16.5% compared with 12% growth recorded by the industry.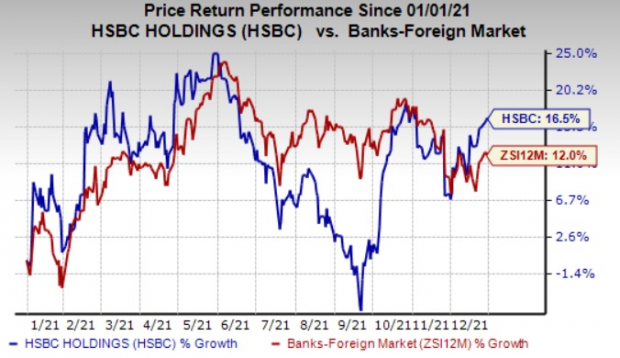 Image Source: Zacks Investment Research
Currently, HSBC carries a Zacks Rank #4 (Sell).
A couple of better-ranked stocks from the same space are Credit Suisse Group AG CS and The Bank of Nova Scotia BNS. While BNS currently sports a Zacks Rank #1 (Strong Buy), CS carries a Zacks Rank #2 (Buy). You can see the complete list of today's Zacks #1 Rank stocks here.
The Zacks Consensus Estimate for Bank of Nova Scotia's current fiscal-year earnings has been revised upward by 7.1% over the past 60 days. BNS shares have gained 32.7% in the past year.
Earnings estimates for Credit Suisse have increased 15.9% for 2021 over the past 60 days. CS shares have lost 24.8% in the past year.
Infrastructure Stock Boom to Sweep America
A massive push to rebuild the crumbling U.S. infrastructure will soon be underway. It's bipartisan, urgent, and inevitable. Trillions will be spent. Fortunes will be made.
The only question is "Will you get into the right stocks early when their growth potential is greatest?"
Zacks has released a Special Report to help you do just that, and today it's free. Discover 7 special companies that look to gain the most from construction and repair to roads, bridges, and buildings, plus cargo hauling and energy transformation on an almost unimaginable scale.
Download FREE: How to Profit from Trillions on Spending for Infrastructure >>
Credit Suisse Group (CS): Free Stock Analysis Report
Bank of Nova Scotia The (BNS): Free Stock Analysis Report
HSBC Holdings plc (HSBC): Free Stock Analysis Report
To read this article on Zacks.com click here.
The views and opinions expressed herein are the views and opinions of the author and do not necessarily reflect those of Nasdaq, Inc.