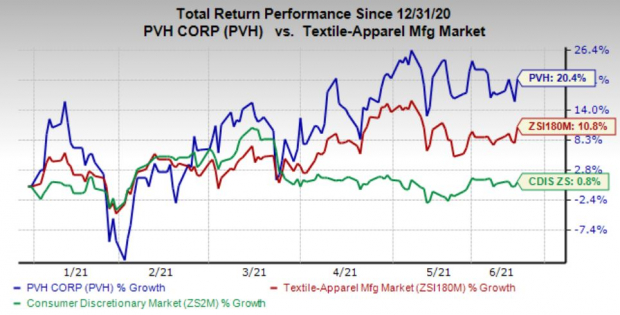 4 Reasons Why PVH Corp (PVH) is a Suitable Investment Pick Now
PVH Corp. PVH has been gaining from brand strength, solid online show and gross margin expansion. Driven by these, the company reported impressive first-quarter fiscal 2021 results. Sturdy performance across all regions and channels acted as an upside. As a result, management lifted its guidance for fiscal 2021.
Notably, shares of this Zacks Rank #1 (Strong Buy) company have rallied 20.4% year to date compared with the industry and the Consumer Discretionary sector's growth of 10.8% and 0.8%, respectively.
That said, let's delve into the factors that make this stock a promising bet.
Brand Strength
PVH Corp remains optimistic about its Calvin Klein and Tommy Hilfiger brands, driven by solid demand. During the fiscal first quarter, revenues for the Tommy Hilfiger and Calvin Klein brands surged 63% and 65% year over year, respectively. Moreover, Clavin Klein in collaboration with Heron Preston launched its first global product, which aims at reinventing essentials, during the quarter. Also, Tommy Hilfiger joined hands with Stevie Gee to introduce the third installment of Tommy's DROP SHOP, which offers limited-edition hoodies and tees. We note that the company is well poised for long-term growth, backed by strength in these brands.
Recovery in International Unit — A Major Driver
PVH Corp. witnessed a better-than-expected performance in its international business during the fiscal first quarter, with sales growth returning to 2019 pre-pandemic levels. Within the international unit, Asia and China regions are accelerating their recovery process. Store traffic in China has been on the rise with robust digital growth. Also, revenues in China remained above the pre-pandemic levels. Going ahead, the international unit is anticipated to further exceed the pre-pandemic sales levels through the rest of 2021.
Solid Online Show
Continued impressive performance in the digital platform bodes well for PVH Corp. Notably, revenues in digital channels surged 95% year over year in the fiscal first quarter, accounting for nearly 25% of total revenues. Revenues in its digital commerce business improved 66% year over year, driven by robust growth across all regions and brands. The company is on track with the expansion of the direct-to-consumer digital business and strengthening its network with third-party digital partners. Driven by these factors, management envisions online sales to represent 20% of total sales over the next few years.
Strong Projections
Owing to its robust first-quarter fiscal 2021 results and well-chalked endeavors, management raised its fiscal 2021 revenue and earnings guidance. For fiscal 2021, revenues are anticipated to grow 24-26% year over year (up 21-23% on a cc basis), which suggests an improvement from the earlier view of a 22-24% increase (indicating a 19-21% rise at cc). Adjusted earnings are expected to be nearly $6.50 per share compared with the prior view of earnings of nearly $6.00 and against an adjusted loss of $1.97 reported in fiscal 2020. Also, the company envisions gross and EBIT margins to improve through the rest of fiscal 2021.
Apart from these, it issued an optimistic second-quarter fiscal 2021 view. Revenues for the fiscal second quarter are expected to increase 34-36% year over year (up 29-31% on a cc basis). Adjusted earnings are likely to be $1.15-$1.18 per share, up from 13 cents reported in the prior-year quarter.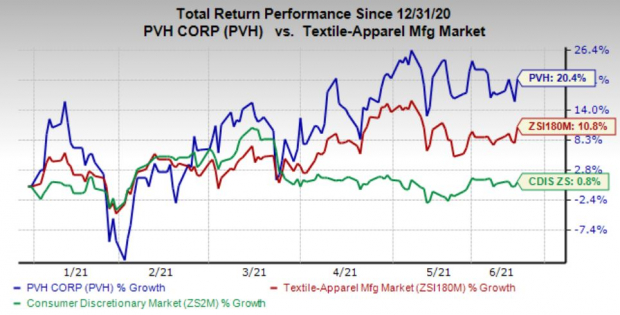 Image Source: Zacks Investment Research
Bottom Line
All said, we believe that continued e-commerce demand, strength in the Tommy Hilfiger and Calvin Klein brands and fast-paced growth in the international unit are likely to help PVH Corp. maintain momentum. Topping it, the Zacks Consensus Estimate for fiscal 2021 earnings is pegged at $6.63 per share, reflecting an increase of 0.8% in the past seven days.
3 Other Key Picks
Crocs, Inc CROX, which sports a Zacks Rank #1, has a long-term earnings growth rate of 15%. You can see the complete list of today's Zacks #1 Rank stocks here.
Gildan Activewear, Inc. GIL, which also sports a Zacks Rank #1, has a long-term earnings growth rate of 28.6%.
G-III Apparel Group, Ltd. GIII, with a Zacks Rank #1, has a long-term earnings growth rate of 11.6%.
Bitcoin, Like the Internet Itself, Could Change Everything
Blockchain and cryptocurrency has sparked one of the most exciting discussion topics of a generation. Some call it the "Internet of Money" and predict it could change the way money works forever. If true, it could do to banks what Netflix did to Blockbuster and Amazon did to Sears. Experts agree we're still in the early stages of this technology, and as it grows, it will create several investing opportunities.
Zacks' has just revealed 3 companies that can help investors capitalize on the explosive profit potential of Bitcoin and the other cryptocurrencies with significantly less volatility than buying them directly.
See 3 crypto-related stocks now >>
PVH Corp. (PVH): Free Stock Analysis Report
Crocs, Inc. (CROX): Free Stock Analysis Report
GIII Apparel Group, LTD. (GIII): Free Stock Analysis Report
Gildan Activewear, Inc. (GIL): Free Stock Analysis Report
To read this article on Zacks.com click here.
The views and opinions expressed herein are the views and opinions of the author and do not necessarily reflect those of Nasdaq, Inc.